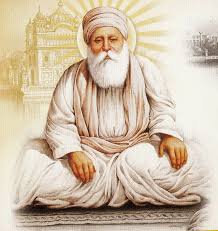 Name : Sri Amardas Ji
Date of Birth : May 5, 1479 A.D.
Place of Birth : Village Basarke in Dist. Amritsar
Father : Bhai Tej Bhan
Mother : Mata Sulakhani
Mahal(Wife) : Bibi Mansa Devi
Sahibzade(Sons) : Baba Mohan,Baba Mohari
Sahibzadian(Daughters) : Bibi Dani,Bibi Bhani
Year of Gurgadi : 1552 A.D.at Khachir Sahib
Ruler of the Time : Emperor Akbar (r. 1556-1605 A.D.)
Date of Eternal Rest : September 1, 1574 A.D.
Place of Eternal Rest : Goindval, Dist. Amritsar
Succession to Gurugaddi : Guru Sahib nominated Bhai Jetha,
his son-in law, with the name of Guru Ram Das, as the fourth Guru of the Sikhs.
Bani :
Total number of hymns 869 in 17 Ragas, e.g. Sri Rag, Asa, Majh, Gujari, Sorathi and Gauiri etc. Guru Sahib recited Anand in Rag Ra.makali in the year 1554 A.D. which is his unique Bani that describes the rich experience of Eternal Bliss.
Special Contribution :
Established 22 centers called Manjis on the Mughal pattern of 22 paraganas to strengthen the economy of the Sikh Movement.Provided new vigour to the system of Langar. When Emperor Akbar visited the Guru Sahib, the former was asked first to take Langar.On the plea of Guru Sahib, Emperor Akbar abolished Jazia – a tax imposed upon non-Muslims.
His Message
To dispense with the system of Sati and Parada.
Brief Description Of Life
Guru Amar Das was born in the village of Basarke on May 5, 1479. He was the eldest son of Tej Bhan a farmer and trader. Guru Amar Das grew up and married Mansa Devi and had two sons Mohri and Mohan and two daughters Dani and Bhani. He was a very religious Vaishanavite Hindu who spent most of his life performing all of the ritual pilgrimages and fasts of a devout Hindu.
It was not until his old age that Amar Das met Guru Angad and converted to the path of Sikhism. He eventually became Guru at the age of 73 succeeding Guru Angad as described previously.
Seeing the rapid expansion of Sikhism, Guru Amar Das asked his son-in-law and trusted follower Jetha to oversee the founding of another city. He wanted him to dig a tank there and to build himself a house. Jetha first purchased the lands for the price of 700 Akbari rupees from the Zamindars of Tung. Here he started the digging on the tank. This new township called Ramdaspur would in due time become present day Amritsar, the holiest city of the Sikhs.
On September 1, 1574 sensing that his end was near, Guru Amar Das sent for Baba Buddha and other prominent Sikhs including his tow sons Mohan and Mohri. He declared; "According to the tradition established by Guru Nanak, the leadership of the Sikhs must go to the most deserving. I, therefore, bestow this honour on my son-in-law Jetha." Guru Amar Das then renamed Jetha as Ram Das, meaning Servant of God. As was the custom Baba Buddha was asked to anoint the forehead of Amar Das with the saffron mark. All those present bowed before Guru Ram Das except for Mohan, Guru Amar Das's eldest son. Shortly thereafter Guru Amar Das breathed his last on the full moon day of Bhadon in 1574 at the ripe old age of 95.
Ten Sikh Gurus [Das Patshaiyan]
Sri Guru Nanak Dev Ji (1469-1539)
Sri Guru Angad Dev Ji (1504 – 1552)
Sri Guru Amardas Ji (1479 – 1574)
Sri Guru Ramdas Ji (1534 – 1581)
Sri Guru Arjan Dev Ji (1563 – 1606)
Sri Guru Har Gobind Ji (1595-1644)
Sri Guru Har Rai Ji (1630-1661)
Sri Guru HarKrishan Ji (1656-1664)
Sri Guru Teg Bhadur Ji (1621 -1675)
Sri Guru Gobind Singh Ji (1666-1708)
Sri Guru Granth Sahib Ji (An Everlasting Guru)