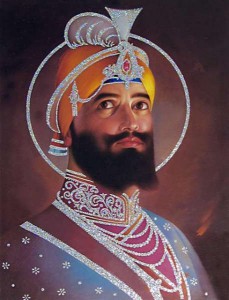 Name : Sri Guru Gobind Singh Ji
Date of Birth : December 22, 1666 A.D.
Place of Birth : Patna Sahib in State of Bihar in India.
Father : Sri Guru Tegh Bahadur Ji
Mother : Mata Gujari
Mahal(Wife) : Bibi Ajit Kaur
Sahibzade(Sons) :
Baba Ajit Singh, Baba Jujhair Singh,
Baba Zorawar Singh, Baba Fateh Singh
Accession to Gurugaddi :
November 11, 1675 A.D. at Anandpur Sahib in Dist. Ropar.
Bani :
One Salok in the Salokas of Guru Tegh Bahadur, included in Sr Guru Granth Sahib Ji, Jap Sahib, Akala Ustati, Var Bhagoti Ji Ki, (Chandi di Var), Zafarnama etc. included in Dasam Granth.
Ruler of the Time :
Emperor Aurangzeb (r.1658-1707 A.D.) Emperor Bahadur Shah (r.1707-1708 A.D.)
Date of Eternal Rest : October 7, 1708
Place of Eternal Rest : Nader in Maharashtra.
Succession to Gurugaddi :
He instructed the Sikhs to rever Sri Granth Sahib Ji as their Guru.
Cities Founded :
Ponta Sahib in Himachal Pradesh in 1685 A.D.
Special Contribution :
He was a Saint-solider and a poet. He took to sword to fight against the oppression generated by the contemporary rulers. He infused martial spirit in the people by soul-inspiring and heart-stirring heroic poetry. On March 30, 1699 he evolved a new Order in more than two centuries old Sikh tradition. The Order is known as Khalsa. Battles He fought several battles against Mughal monarchy and Hill Chiefs.
Some Words Of (Guru Gobind Singh, Vachitra Natak)
I establish thee as my son, that you spread My Path. Go and instruct men in Righteousness and the Moral Law, and make people desist from evil.'
I stood up, with joined palms, and bowing my head to Lord God, I said: Thy Path I shall spread only if Thou be at my back.
For this was I born into the world, I utter only how and what God uttered to me, for I am the enemy of no one. He who calls me God will surely burn in the fire of hell. For I am only the servant of God: doubt not the veracity of this statement. I am but the slave of the Supreme Being come to witness His Play. I tell the world only what my God said to me, for I will not be silenced through fear of the mere mortals. I utter as is the Instruction of my God, for I consider no one greater than Him. I am pleased not with any religious garb, so I shall sow the seeds of the Unaccountable One. Nay, I worship not stones, nor am I attracted by denomintional coats. I utter only the name of the Infinite and so attain unto the Supreme Being. I wear not matted hair, nor ear-rings, nor have regard for any such ritual, and do only what God bids me do. I repeat only the Name of One God who fulfills us, at all places. No, I utter not another's name, nor establish another God. I dwell upon the Name of the Infinite One and so realise the essence of the Supreme Light. I give thought to none else, nor utter another's name. O God, with Thy one Name I am imbued. I have no other pride. Yea, I utter only Thy Name and eradicate my endless sins. (Guru Gobind Singh, Vachitra Natak)
Ten Sikh Gurus [Das Patshaiyan]
Sri Guru Nanak Dev Ji (1469-1539)
Sri Guru Angad Dev Ji (1504 – 1552)
Sri Guru Amardas Ji (1479 – 1574)
Sri Guru Ramdas Ji (1534 – 1581)
Sri Guru Arjan Dev Ji (1563 – 1606)
Sri Guru Har Gobind Ji (1595-1644)
Sri Guru Har Rai Ji (1630-1661)
Sri Guru HarKrishan Ji (1656-1664)
Sri Guru Teg Bhadur Ji (1621 -1675)
Sri Guru Gobind Singh Ji (1666-1708)
Sri Guru Granth Sahib Ji (An Everlasting Guru)