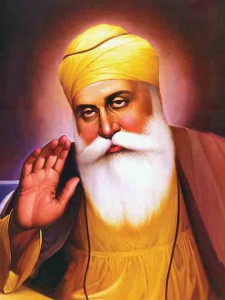 Name : Sri Guru Nanak Dev Ji
Date of Birth : October 20, 1469
Place of Birth : Talwandi – Nankana Sahib (Pakistan)
Father : Sri Kalyan Das Mehta (Sri Kalu Mehta)
Mother : Mata Tripta
Mahal(Wife) : Mata Sulakhani
Sahibzade(Sons) : Baba Sri Chand, Baba Lakhimi Das
Year of Gurgadi : 1469
Duration of Gurgadi : Entire life
Ruler of the Time : Babar, Behol Lodhi, Sikandar Lodhi
Date of Eternal Rest : September 22, 1539
Place of Eternal Rest : Sri Kartarpur Sahib(Punjab)
His Message
Vand Chakna – Share their earnings with others who are less fortunate
Naam Japna – Always remember God
Kirat Karna – Live a honest Life and to earn their living with honest labor
Brief Description Of Life
It was during the time when the world was plunged into the dark world of ignorance, feudal tyranny and oppression, religious and cultural strife, that Sri Guru Nanak Dev, the founder of Sikhism, was born. His birthday is celebrated on the full moon night which mostly falls within November. Celestial music resounded in heaven. Almighty host of gods, thus, hailed his birth, "God has come to save the trouble peace to the people of all communities, preached brotherhood and humanitarianism irrespective of caste, creed, color and economic status. Guru Nanak Dev brought vision of a common humanity to a society which had become a heaven of violence and strife. He had faith in humanity. According to him, love of God implied love for his creation. Service of humanity indicates one's love for God.
"Miti Dhundh Jag Chanan Hoa
Mitya Andhera Chan Charya"
That is "With the appearance if Guru Nanak Dev, the mist of ignorance disappeared and there was the light of righteousness, just as darkness is dispelled instantly when the sun rises and stars disappear".
Guru Nanak Dev's life served as a beacon light for his age. He was a great seer, saint and mystic. He was a prolific poet and a unique singer of God's laudation. A prophet of peace, love, truth and renaissance, he was centuries ahead of his times. His universal message is as fresh and true even today as it was in the past, In fact, he belongs to that category of great men who do not monopolise any particular sect, creed or religion but belong to complete humanity. Guru Nanak Dev is a bridge between two shores of the river of unity. The following folklore clearly indicates the public feeling of respect and reverence for him :
Guru Nanak Sah Fakir,
Hindu Ka Guru,
Musalman Ka Pir.
A priceless jewel, a shining star, a divine light, Guru Nanak Dev shone amongst his peers from his very early childhood. His wise questions and spiritual leanings surprised all those who came in contact with him at home and in school. When he was sent to school, Guru Nanak Dev said to his teacher, "Teach me, only this one large lesson of life. Tell me of the Creator, and the wonder of these Great World". He confounded the school teachers by asking such questions. But to he utter surprise of the teachers and others, Guru Nanak Dev gained proficiency in Sanskrit, Persian and the local language.
Guru Nanak Dev became more and more absorbed in his communion with God and was often seen in a state of trance,. Parents anxious of his health sought the advice of a physician. When the physician put his fingers on the pulse of Guru Nanak Dev, he gently withdrew his hand.
Guru Nanak Dev's father thought of initiating him in business undertakings. He gave him a few silver coins to bring some articles from the town, which could be sold in Talwandi for profit. On the way, Guru Nanak Dev came across some needy saints, and spent the money in feeding and clothing them. He returned empty-handed. His father was enraged by his reply that he had struck the "True Bargain". Thus his father's best efforts to bind him into worldly affairs fell flat.
In 1497, at the age of 12 years, Guru Nanak Dev started to lead the life of a true householder at Sultanpur, a town in district Jalandhar of Punjab. He was working as the Modi, that is, keeper of the state Granary. Here he acquired the companionship of Bhai Mardana and Bala. Once in the process of weighting, when he reached thirteen, he lost himself into God and went on weighing and counting repeatedly "Tera ! Tera ! Tera ! Tera ! Tera ! . . . "Thine ! Thine ! Thine ! Thine ! Thine ! Tera arithmetically means thirteen and literally it means, 'I am thine'. That is why number thirteen is taken as a lucky number. To the utter surprise, there was no decrease in the store stock and it was founded to be accurate and in order.
These long journeys gave Guru Nanak Dev a keen insight of the human character and accordingly, he adopted impressive and effective methods in persuasion of his Divine mission. His attractive rationalism brought about amazing transformations in the life and character of all those who came in contact with him.
At Hardwar, Guru Nanak Dev proved that the mere physical oblation of water is of no avail to the dead. He actuated this by giving them a demonstration by splashing water to the west, contrary to the common practice in vogue there.
Guru Nanak Dev slept with this feet towards the Kaaba at Mecca. When the angry Mulla remonstrated his impertinence Guru Nanak Dev's humble reply was, "Please turn my feet in the direction where there is no God."
At Lahore, Duni Chand – a wealthy Khatri, who was a money-monger, money grubber and enmeshed in money matters, once came to see Guru Nanak Dev. By giving him a needle the Guru said,"Duni Chand, keep it with thee and give it back to me in the next world. "Surprisingly Duni Chand replied," Master, this needle I shall not be able to carry with me after death, how shall then I return it to you?" The Guru then asked, "What use then, Duni Chand, are thy millions to thee?' Duni Chand was changed and he became Guru Nanak Dev's follower. According to the advice of the Guru, he distributed most of his wealth amongst the needy and the poor.
At Sultanpur, the Qazi took strong exception to Guru Nanak Dev's sayings that there was no Hindu and no Musalman. He invited Guru Nanak Dev to the mosque for offering namaz. When Knob, Nawab Quasi and others were offering prayer, the Guru simply remained standing. That added to his fury but he was surprised when the Guru told him that though he was physically offering the namaz his heart was looking after the foal his mare had delivered that morning. The Nawab at heart was wandering in Kabul with his men busy in the horse – trade. Guru Nanak Dev then advised them that true worship is a matter of the heart and not of formal ritualism. According to Guru Nanak Dev "There can be no worship without performing good deed."
After Guru Nanak Dev visited Tibet and Mansarover Lake, he passed through Leh and Ladakh. There is a legend that a demon who was a terror to animals and human being dwelled in that region. He was supposed to have devoured an animal or a human daily. When the Guru reached there, everyone was convinced of his Omnipotence and begged him to save them from that terror. Guru Nanak Dev agreed. He and his disciples went to a place called Nimmu and settled there. In the middle of the Kirtan the demon came forth, but was repelled by the deep spiritual brightness emanating from the Guru's face. The demon was furious. Since he could not come near Guru Nanak Dev, he began to hurl stones and rocks at him from a distance. However, none of these could hurt the Guru.
The Guru prepared to depart from the world of mortals and his return to the Eternal Home. He addressed the disciples who had assemble around him :
"The appointed hour hath come-
The hour of marriage and union with the Spouse divine.
Assemble ye, my Comrades :
Cluster round me and lift up your merry notes :
Sing the praises of the Divine, Comforting Lord.
Anoint the Bride,
Pour oil on her forehead,
Give her your blessings,
And pray that she may meet her Lord,
And he happy with him for aye.
Sing Ye, my friends, the praises of the Spouse;
For the appointed hour of union hath come."
Thus singing the Word of God. Guru Nanak Dev went into Samadhi and was no more. It was September 22, 1539. Now a quarrel ensued between Hindus and Muslims. The Hindus wanted him to be cremated whiter Muslims desired him to be buried. Both claimed him with equal vehemence. As the dispute was growing warm, they decided that some fresh flowers be kept by both for the night on his body and flowers of whomsoever withered first should give in to the other. However, in the morning it was discovered that the same was no more there. There were only flowers and silence. At last, they agreed to divide the sheet into two halves which was subsequently buried by the Muslims and cremated by the Hindus.
Ten Sikh Gurus [Das Patshaiyan]
Sri Guru Nanak Dev Ji (1469-1539)
Sri Guru Angad Dev Ji (1504 – 1552)
Sri Guru Amardas Ji (1479 – 1574)
Sri Guru Ramdas Ji (1534 – 1581)
Sri Guru Arjan Dev Ji (1563 – 1606)
Sri Guru Har Gobind Ji (1595-1644)
Sri Guru Har Rai Ji (1630-1661)
Sri Guru HarKrishan Ji (1656-1664)
Sri Guru Teg Bhadur Ji (1621 -1675)
Sri Guru Gobind Singh Ji (1666-1708)
Sri Guru Granth Sahib Ji (An Everlasting Guru)